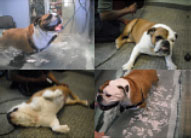 Veterinary Rehabilitation Center of Twinsburg
Rehabilitation can be an important component of any dog's health. We work with your referring veterinarian to provide the best quality of treatment for your pet.
Canine rehabilitation involves a variety of techniques to promote healing and improve function. These techniques can include massage, underwater treadmill, laser, and therapeutic exercise. Benefits of rehabilitation can include improving fitness, decreasing pain, increasing joint mobility, and improving muscular strength.
At our Rehabilitation Center, the goal is to improve the physical condition of our patients and strengthen the bond between pets and their families. We work closely with each patient to design a custom rehabilitation plan to improve their comfort, function, and quality of life.
Who Should Consider Rehabilitation
Dogs of all ages and physical abilities may benefit from developing an exercise program. Like people, each dog will have different needs in a program goal from merely providing maintenance in a young dog to relearning how to walk after an embolism.
Conditions that Can Benefit from Rehabilitation
The following conditions are just a few of the many that can benefit from physical rehabilitation:
Post-operative Orthopedics
Degenerative Neurologic Disease
Intervertebral Disc Disease
Spinal Cord Injuries
Herniated Discs
Osteoarthritis
Elbow Dysplasia

Hip Dysplasia
Cruciate Injury
Patellar Luxation
Limb Amputation
Obesity
Muscle Injuries
Tendon Laceration
Rehabilitation Treatment Modalities
Techniques and treatments may include:
Heated Underwater Treadmill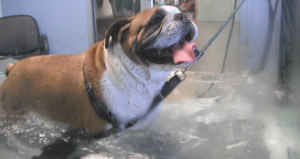 Water takes weight off painful joints to allow for controlled weight bearing and exercise. Hydrostatic pressure can aid in the reduction of swelling.
Laser Therapy
Concentrated light increases cellular activity to decrease inflammation, reduce pain, and speed healing.
Electric Stimulation
Electric stimulation of nerve fibers can be used to reduce pain by blocking nerve signals. Stronger stimulation is used to elicit muscle contraction in patients with neurologic disease.
Therapeutic Exercise
Targeted exercise can strengthen both specific muscles and larger groups. Gait and awareness of foot placement can also be improved.
Massage and Joint Mobilization
Used to improve comfort and flexibility.
Many dogs relax and enjoy their therapy sessions.

Getting Started
All pets that start a rehabilitation program at our facility will undergo a comprehensive exam to target any and all areas that will need therapy. This will allow our doctor to create a custom rehabilitation plan for you and your furry family member!
To provide the best care possible, your referring doctor plays an important role. Please bring any medication that your doctor has already started, as well as their previous medical history. The information they provide greatly affects the outcome. Maintaining that relationship is key to the long term recovery of your pet.
We require that all pets receiving therapy are current on their vaccinations based on our hospital and kennel policy.  This includes a DHLPV, Rabies, and a Bordetella vaccination every six months.  If your pet cannot receive vaccinations, we will except a letter from your veterinarian stating their condition.