In addition to offering Complete Veterinary Services to your pet, we offer Pet Lodge services for extended stays. In addition, there is a climate controlled state-of-the-art air exchange system that eliminates odors and airborne germs.  At the end of the day, your dog will be put to bed with a quiet music background. Ask about our terms for multiple pet per household discount. Pet Lodge accommodations include:
Presidential Suites – Our Presidential Suites are theme-decorated and cater to the needs of the larger breed dogs. Included in these suites are block walls, cozy cots, and glass doors for easy viewing. Your special friend will have outdoor breaks in our fenced-in back yard.
Royal Suites – The Royal Suites are similar to the Presidential Suites, although slightly cozier. They have the addition of webcams, which allow easy viewing from a computer wherever you may be. You can see your dog online during the day on the www.onlinedoggy.com web site.
Atrium View – The Atrium View is available to all size dogs with an appropriately sized cozy cot. Your pet will be delighted by the site of a flowing water fountain and indoor gardens. Skylights will flood these suites with all natural lighting. Your pet will have outdoor breaks in the fenced-in exercise area.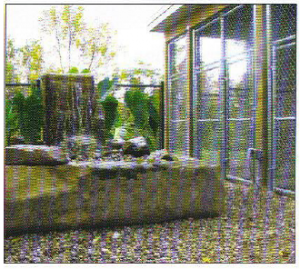 Garden View – The Garden View caters to the needs of the outdoor lovers. During the day, your pet will have the option of sitting outside on the covered "patio" for a scenic escape, with views of the surrounding wooded areas and a water feature. On the other hand, they may elect to relax in the indoor area on their cozy cot. They too will visit the exercise area with a little more room to roam. Of course we monitor the weather conditions to keep them comfortable during their stay.
Cabins – The Cabins are our standard accommodations. Your pet will have ample room and will be treated to outdoor breaks and their own cozy cot.
Feline Palace – Our cat condos are designed for the needs of our feline friends. The condos provide a separate air purification system for each unit, a resting ledge, and a built-in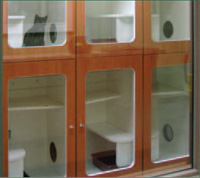 feeding/watering ledge. Each unit has a tempered glass door for an unobstructed view, which will allow you to watch your cat using our featured web cams, and for your cat to enjoy DVDs on a centrally located monitor. If willing, your cat will enjoy ample exercise and individual playtime each day. Feel free to inquire about costs if your cat has any special medical needs.
Pet Lodge Check-in and Check-out times
| | |
| --- | --- |
| Monday | Check-in:  2:00pm-6:00pm / Check-out:  7:30am-12:30pm |
| Tuesday | Check-in:  2:00pm-6:00pm / Check-out:  7:30am-12:30pm |
| Wednesday | Check-in:  2:00pm-6:00pm / Check-out:  7:30am-12:30pm |
| Thursday | Check-in:  2:00pm-6:00pm / Check-out:  7:30am-12:30pm |
| Friday | Check-in:  2:00pm-6:00pm / Check-out:  7:30am-12:30pm |
| Saturday | Check-in and Check-out:  7:30am-2:00pm (effective January 1, 2023) |
| Sunday | Check-in and Check-out:  3:00pm-6:00pm |
Please Download Our Kennel Application Form.